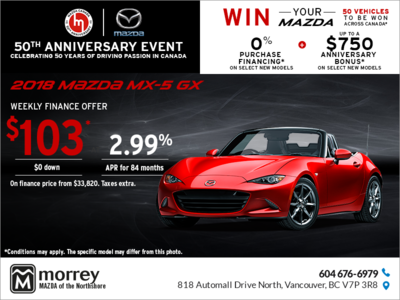 Finance the 2018 Mazda MX-5 GX from $103 weekly at 2.99% for 84 months with $0 down.
On finance price from $33,820. Taxes extra.
Some conditions apply. This offer ends on July 31st, 2018.
Book your test drive today!
Book Your Test Drive
Get a Price Quote
Mazda 50th Anniversary Bonus Offer is available to qualifying retail customers who cash purchase/finance/lease a new and previously unregistered, in-stock 2017, 2018 or 2019 Mazda model from an authorized Mazda dealer in Canada between July 4-31, 2018. Anniversary Bonus Offer value of $300 for 2018 Mazda3/Mazda3 Sport, 2018 Mazda6, 2018 & 2019 CX-3, 2018 CX-5; $750 for 2017 Mazda6, 2018 MX-5/MX-5 RF & 2018 CX-9; $1,000 for 2017 MX-5 RF. Anniversary Bonus Offer will be deducted from the negotiated price before taxes. Some conditions apply. See dealer for complete details.
0% APR Purchase Financing is available on select new 2017, 2018 Mazda models. Excluded on 2017 MX-5 RF, 2018 MX-5, CX-9, and 2019 CX-3 models. Terms vary by model. Based on a representative agreement using an offered pricing of $17,695 for the new 2018 Mazda3 GX (D4XK68AA00), with a financed amount of $18,000 the cost of borrowing for a 72-month term is $0, monthly payment is $250, total finance obligation is $18,000. Offer includes freight and P.D.E. of $1,695 and $100 air conditioning charge (where applicable). Offer excludes PST/GST/HST and specific duty on new tires.