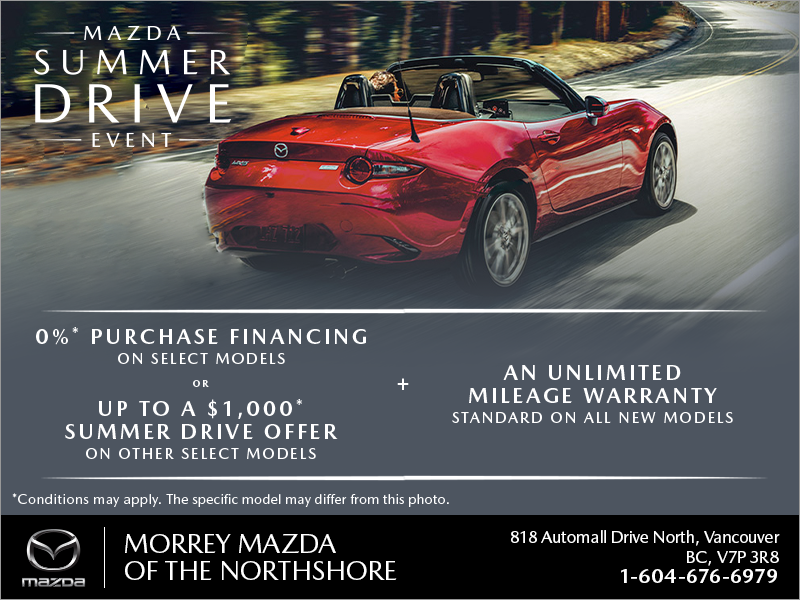 It's the Mazda Summer Drive Event!
Receive 0% purchase financing on select models or up to a $1,000 Summer Drive Offer on other select models!
Plus, get an unlimited mileage warranty standard on all new models!
Some conditions apply. Hurry, this offer ends on July 31st, 2019.
Book your test drive online today!
Book Your Test Drive
Get Your Price Quote
*0% APR Purchase Financing is available on select new 2018 Mazda models and 2019 Mazda6. Terms vary by model. Based on a representative agreement using an offered pricing of $29,245 for the new 2019 Mazda6 GS (G4SN89AA00) with a financed amount of $29,245, the cost of borrowing for a 48-month term is $0, monthly payment is $609, total finance obligation is $29,245. Offer includes freight and P.D.E. of $1,795, $100 Air Conditioning charge (where applicable). Offer excludes PST/GST/HST and the specific duty on new tires.
Summer Drive offer (value up to $1,000) is available to qualifying retail customers who cash purchase/finance/lease a select new, in-stock 2018 and 2019 Mazda model from an authorized Mazda dealer in Canada between July 3 – 31, 2019. Amounts vary by model: $300 on all 2018 Mazda3/Mazda3 Sport, on all 2019 Mazda6, on all 2019 CX-3 and on all 2018 CX-5 models. $475 on 2019 MX-5 ST GS models. $500 on all 2019 CX-5 models. Maximum $1,000 on all 2018 MX-5 ST/MX-5 RF, on 2019 MX-5 ST GS-P & GT, on all 2019 MX-5 RF, on all 2018 Mazda6, on all 2018 & 2019 CX-9 models. Summer Drive offer applied before taxes. Some conditions apply. NOTE: Summer Drive offer not available on 2019 Mazda3 models. See dealer for complete details.
Licence, insurance, taxes and down payment (where applicable) are extra and may be required at the time of purchase. Dealer may sell/lease for less. Dealer order/trade may be necessary on certain vehicles. Offers valid July 3 – 31, 2019, while supplies last. Lease and finance on approved credit for qualified customers only. Offers subject to change without notice. Visit mazda.ca or see your dealer for complete details.
Mazda Unlimited refers only to an unlimited mileage warranty program under the terms of which there are no mileage limitations on the following specific Mazda warranties: (i) 3-year new vehicle; (ii) 3-year roadside assistance; (iii) 5-year powertrain; and (iv) 7-year anti-perforation. Mazda Unlimited is standard on all new models. All Mazda warranties remain subject to the terms, limitations and restrictions available at mazdaunlimited.ca.