The 2019 Mazda CX-3
April 30 2018,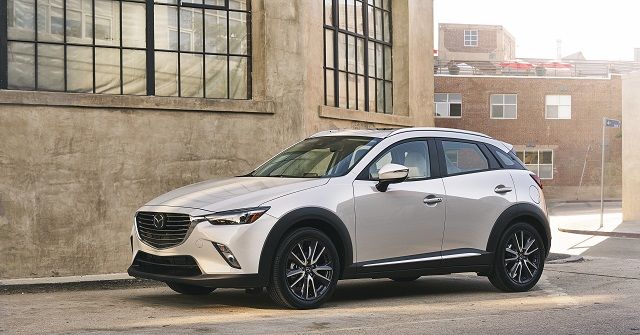 If you're one of the first to introduce something to the market, it stands to reason you need to maintain the momentum and keep that product evolving and getting better over the years. Well, Mazda has managed to do that with their compact crossovers, and when the CX-3 first emerged a few short years ago, it took the market by storm, and this latest refresh is sure to kick up the same winds and then some.
In terms of what's been updated, for 2019 Mazda revamped the exterior and interior of the CX-3, as well as a few engine tweaks, along with suspension and powertrain improvements.
At first glance, the exterior of the CX-3 isn't wildly different, however, it's been updated ever so slightly with an all-new front grille that speaks to the Mazda family design language. Subtle chrome accents have been added throughout the exterior look, and around the back you'll notice all-new taillights that now mimic the angular shape of the headlights.
Inside the 2019 Mazda CX-3, the changes are also quite subtle, but also extremel significant. For starters, the cable parking brake was replaced with an e-brake electronic button. The same shift lever remains, despite the real estate around it changing. The 2019 Mazda CX-3 now features details such as faux-suede applique around the dashboard with red accents up front and in the rear seats. And there's even a new armrest in the rear with cup-holders in the rear now, which really elevates the CX-3 in terms of quality, comfort and space.
As for the engine tweak: While the outgoing 2.0L SKYACTIV-G inline-4 engine remains, Mazda worked to reduce the internal friction of that engine to increase torque. This 2.0L now produces 148 horsepower and 148 lb-ft of torque – up 2 horses and lb-ft, respectively.
Mazda engineers also managed to improve handling in the 2019 Mazda CX-3 with added G-Vector Control programming, new 18" wheels, and retuned suspension and steering.
To find out more about the new 2019 Mazda CX-3, head down to your local Morrey Mazda to speak to one of our experts. And don't forget to be one of the first to drive this new and improved crossover when it hits dealers in the coming months.