Five Reasons That Explain Why the 2017 Mazda CX-5 Is so Popular
September 29 2017,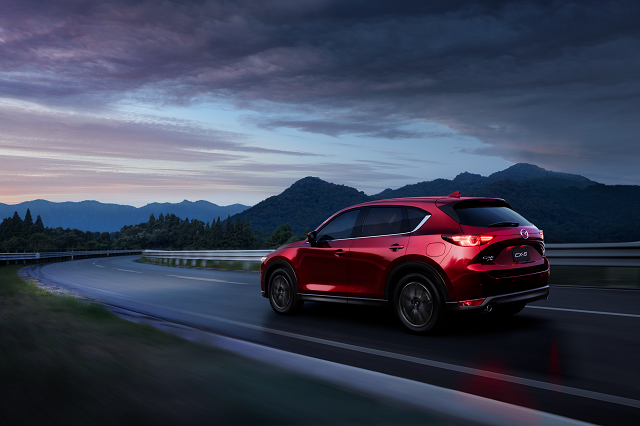 The Mazda CX-5 has been one of the best-selling compact SUVs ever since it first arrived on the market. And for 2017, Mazda returns with a CX-5 that has been completely redesigned from the wheels up and that is now more competitive than ever. Here are five reasons that explain why Mazda's compact SUV is so successful.
A style that stands out
The Mazda CX-5 has always distinguished itself as a more dynamic SUV than its competitors. You can tell that just by looking at its design, especially this new generation. For 2017, the Mazda CX-5 adopts a more aggressive style than ever, true to Mazda's Kodo philosophy.
In the cabin of the CX-5, everything is set up to make life easier for the driver. The controls are intuitive and allow the person behind the wheel to focus on the road.
Unbeatable driving pleasure
The Mazda CX-5 is the compact SUV for people who love to drive. Without compromising its practicality, Mazda succeeded in making the 2017 CX-5 a joy to drive on a winding road while also being sufficiently comfortable for long highway drives. Its precise steering and G-Vectoring Control system make it a vehicle that is in a class of its own, but in terms of comfort and driving dynamics.
Impressive fuel consumption
Whether you opt for the 2.0-liter entry-level engine or the most powerful 2.5-liter engine, the Mazda CX-5 stands out when it comes to fuel economy. Thanks to SKYACTIV technology, the 2017 Mazda CX-5 gets the most out of every drop of fuel. This results in a fuel consumption rating as low as 9.4 l/100 km in the city and 7.4 l/ 100 km on the highway.
Emphasis on safety
For Mazda, the safety of its customers is paramount. Thanks to all the i-Activesense technologies available in its lineup, the Mazda CX-5 is an extremely safe vehicle. The CX-5 is equipped with a wide range of radars and sensors to warn you if an imminent danger is around you.
The CX-5 2017 can brake by itself if it detects a possible collision and no action is taken by the driver to avoid it, and it can also make sure you stay in your lane. There are plenty of other safety features included in the i-Activesense package as well.
Oh, and we should also mention that Mazda offers an unlimited mileage warranty. That means that regardless of how much kilometers you drive every year, you are still covered.
A price that you can live with.
Despite all that it offers, the 2017 Mazda CX-5 is offered at a starting price of $ 24,900 at Morrey Mazda. Do not wait any longer, come and test drive it today!