2019 Mazda MX-5: History Reborn
July 31 2018,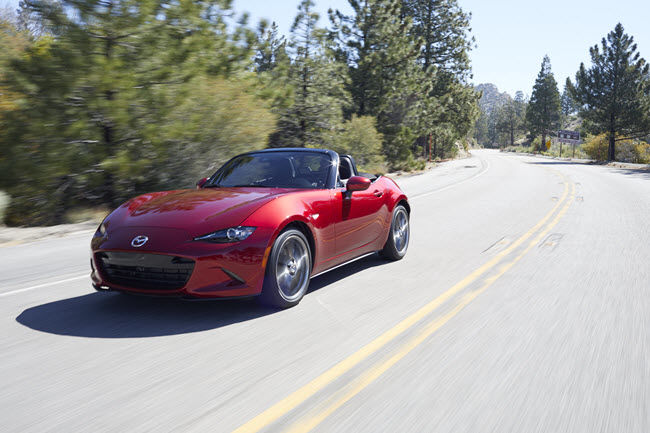 When you have a vehicle as iconic as the MX-5 (nee Miata), it's hard to think about redesigning or changing anything for new generations. And yet, somehow, year after year and generation after generation, Mazda engineers have managed to keep the heritage alive in the MX-5 while simultaneously making it modern and relevant to today's automotive world.
Since it was first launched in 1968, now 50 years down the line, the Mazda MX-5 is still going strong.
For this fourth generation MX-5, Mazda engineers focused on upgrades to the powertrain, driving position and safety.
In terms of power, the 2019 Mazda MX-5 features the same 2.0L 4-cylinder mill found in the previous model year. This time around, Mazda engineers were able to squeeze 181 horsepower out of the unit (compared with 155 from the previous model), and between 148 and 151 lb-ft of torque.
Mazda engineers were also able to put the 2019 Mazda MX-5 on a diet, which has resulted in an overall weight reduction that has helped improve the two-seater's performance numbers, along with fuel economy.
Amazingly, Mazda engineers also improved the manual transmission, optimizing the system for smoothness of shifts, along with the edition of a low-inertia dual-mass engine flywheel. There's also an Active Adaptive Shift (AAS) feature that assists when downshifting for added smoothness and ease when behind the wheel of the 2019 MX-5.
The 2019 Mazda MX-5 now features a telescopic steering wheel for optimal adjustment and placement for any size driver. There are also all-new seats in the 2019 MX-5 that are much more comfortable for long weekend cruises in the summer sun.
The 2019 Mazda MX-5 is an instantly recognizable roadster with sharp, angular looks. A sporty and slightly aggressive stance set it apart from the rest on the road. New for 2019: available brown soft-top, a wider range of colours, and 16" or 17" aluminum rims.
To find out more about the 2019 Mazda MX-5 and how it might just be the perfect two-seater for you, head down to your local Morrey Mazda to speak to one of our experts. And you will not want to miss out on a test drive, either, so make sure you book one.