2018 Mazda6: Yup, There's a Turbo in There Now
May 31 2018,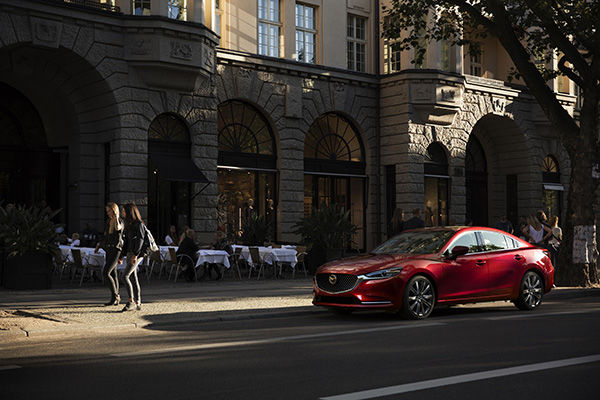 Over the years, the Mazda6 has made a serious name for itself as a stunningly designed and engineered sedan from the Japanese automaker. However, somehow for 2018, the engineers at Mazda have managed to bring the Mazda6 to a whole new level in terms of technology, performance and design.
The most exciting news for the 2018 Mazda6 is the fact that the gorgeous sedan will now come with an available 2.5L turbocharged engine. That's right: A turbo. It's the same engine already found in the all-new CX-9, which means it offers up quite a bit of power. If you fill your 2019 Mazda6 with 93-octane gas you'll get to experience 250 horsepower (227 with 87 octane) and 310 lb-ft of torque, regardless of gas grade chosen. Of note: the turbo Mazda6 only comes paired with a 6-speed automatic transmission. If you want a manual you'll have to opt for the previous generation's 2.5L naturally aspirated mill.
Mazda designers turned to the KODO design language once again to enhance the already stunning looks of the Mazda6. This latest model wears an updated front grille and standard LED headlights. All new 17" and available 19" wheel designs and body-paint colour exterior parts elevate the Mazda6's presence on the road.
The inside of the 2018 Mazda6 is all new, the only carry-over from the previous generation being the steering wheel. New for this model year, and for the first time, the Mazda6 will be offered in a Signature trim level (the same one offered for the CX-9). Standard features include a 7.0" screen that sits behind the gauge cluster, and the entertainment unit can be upgraded to an available 8.0" touchscreen.
To find out more about the all-new 2018 Mazda6, head down to your local Morrey Mazda to speak to one of our experts. And don't forget to sign up for a test drive when they become available soon.