2018 Mazda3: Pleasure Married to Fuel Economy
December 30 2017,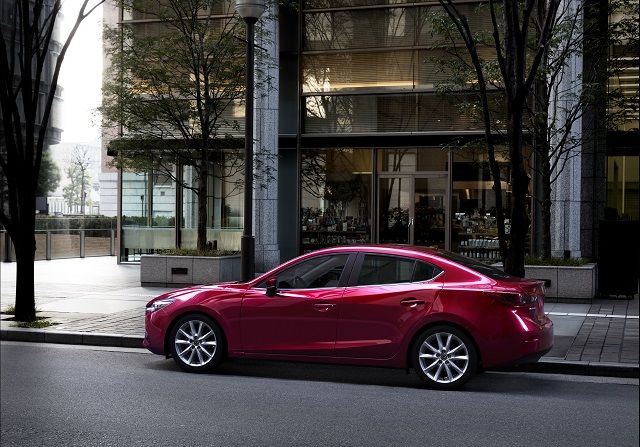 Since arriving on the market, the Mazda3 has always stood out by offering its owners unparalleled driving pleasure in the compact car segment. Then, when the second generation of the model was unveiled, Mazda introduced the SKYACTIV engine that dramatically improved the fuel economy of the Mazda3. Then last year, Mazda made improvements that made the compact sedan even more appealing to consumers in a variety of ways. No wonder it's so popular.
Two fuel-efficient engines in the new 2018 Mazda3
The 2018 Mazda3 offers two fuel-efficient engines with a ton of power that will meet the needs of most consumers. The first engine is a 2.0-liter SKYACTIV-G four-cylinder engine with 155 horsepower and 150 lb-ft of torque. This engine is standard on the GX and GS versions. The other engine offered is a SKYACTIV-G 2.5-liter four-cylinder engine producing 184 horsepower and 185 lb-ft of torque. These two engines can be paired with an automatic transmission or a manual gearbox.
Last year the Mazda3 received several improvements that we also find in the 2018 model. We are talking about a more sophisticated cabin, more equipment, a more refined exterior style and the addition of an exclusive technology aimed at improving road behavior.
Called Mazda G-Vectoring, the system uses engine torque to reduce body movements and improve vehicle stability. Specifically, we feel less movements in the cabin and there are fewer corrections necessary to keep a straight line on the highway.
Two versions of the 2018 Mazda3
The 2018 Mazda3 is available in a sedan version starting at $ 15,900 while the more versatile Sport version is available starting at $ 19,800. The latter is a hatchback configuration and its cargo capacity increases to 572 liters. If you lower the rear seat, cargo space is greater than 1,300 liters.
To find out more about the new 2018 Mazda3, contact us today at Morrey Mazda!