2016 Mazda5: The Minivan Alternative
July 13 2016,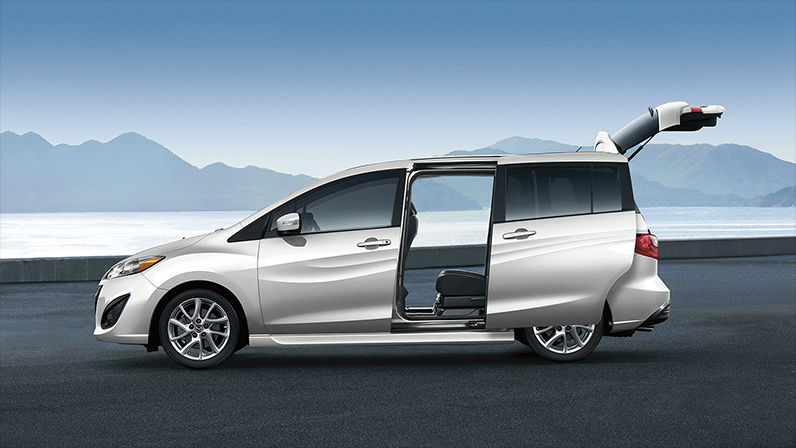 We equate bigger with better, usually. However, there's most definitely an exception to every rule, and the 2016 Mazda5 is just such an exception.
While this minute minivan might not seem as practical as your run-of-the-mill people carrier, we're here to tell you it is that and so much more. The Mazda5 is versatile, functional, fun to drive, and stylish. With gobs of interior space, room for up to six, and all the Mazda drivability and reliability you know and love; the Mazda5 really is the ultimate mini van.
There's More than Meets the Eye in this Mazda
While the 2016 Mazda5 might not be the most updated or revamped Mazda in the lineup, it still has some stellar good looks and great exterior lines. There's no denying, this is one of the best-looking minivans currently on the market today. Stylish and modern, the Mazda5 is designed in typical Mazda fashion, with a flare and character that stands out from the pack. Sculpted sides and a distinguished front end ensure the 2016 mazda5 is instantly recognizable for all the right reasons.
Even though the 2016 Mazda5 hasn't yet received the Japanese automaker's updated HMI system, it does feature technological amenities such as Bluetooth, steering-wheel mounted hands-free controls, USB ports, and satellite radio. Everything you need to make your time (and your passenger's) on the road with the Mazda5 that much more enjoyable.
The 2016 Mazda5 offers up a total of 857 litres of cargo space if you fold down both rows. With both up, you'll discover 112 litres of storage space for all your goods, and fold down just the third row and you've got 426 litres to fill up. In all, the Mazda5 has a cavernous interior, that's made to feel even roomier up front thanks to the unique positioning of the gear shifter.
Of course, you've got to get all your passengers and cargo moving, and you'll do that with the 2016 Mazda5's 2.5L 4-cylinder engine that pushes out 157 horsepower and 163 lb-ft of torque. Two transmission choices are available: a 6-speed manual and a 5-speed automatic. Power is sent to the front wheels at all times.
The Practicality of a Minivan in a Compact's Body
With all this great design, interior space, and great engine and transmission combinations, it's hard to believe there's one more feature that is most definitely one of the best things on the 2016 Mazda5; and that is the vehicle's side panel sliding doors. That's right; this mini van has proper van-like side doors that make loading and unloading gear and people an absolute breeze.
The 2016 Mazda5 truly is the ideal blend of large-vehicle practicality in a small-car's body. Functional and versatile, the Mazda5 has so much to offer small families; the list is almost too long. Which is why you should head down to your local Morrey Mazda dealer to speak to one of our experts today about everything is not-so-mini minivan has on offer. And don't forget to book a test drive, too so you can really see what this car is all about.