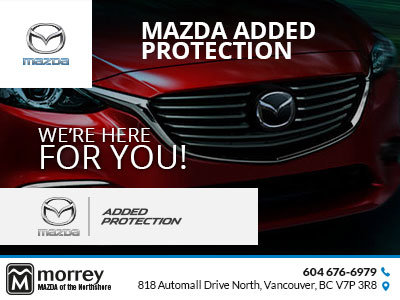 Mazda Canada is proud to offer some of the most exciting vehicles on the road today, vehicles that provide a uniquely exhilarating driving experience. We want to provide the opportunity to enjoy worry-free driving, even after the vehicle's manufacturer's warranty has expired. That's why we've created the Mazda Added Protection plans to protect you against unexpected repair costs.
Mazda Added Protection is our way of ensuring that your ownership experience is the best it can be. The way we look at it, excitement comes from being behind the wheel of your new Mazda, so our dealership service departments work hard to keep you there.
Contact Morrey Mazda of the Northshore today to find out more!
Get in touch!
Browse our new Mazdas